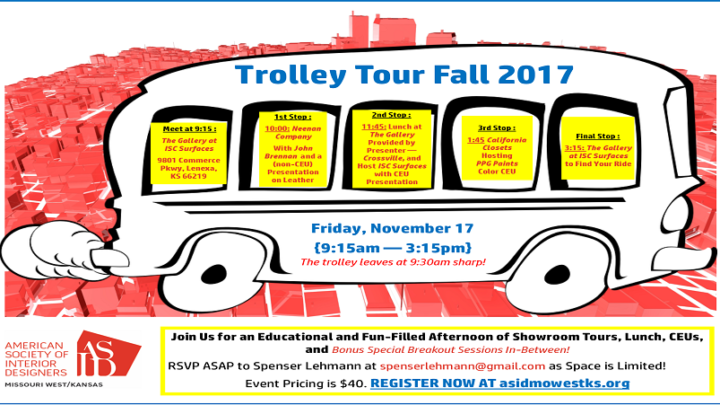 Trolley Tour "C-E-U" per Saturday
Description
SAVE THE DATE! 09/23/2017
Having trouble getting your CEU"S? If you live in Springfield, Western Kansas or the KC metro area, this event is just for you! Jump on the Trolley and Learn your way around town!
POSTPONED
Starting Time 11:30 AM
3 Presenters - 3 Showrooms
Begin the day at 11:30 The Gallery at ISC Surfaces 9801 Commerce Parkway Lenexa, KS 66219. Park your cars. We leave from here on the Trolley
(1). Crossville - CEU on Large Format Porcelian Slabs held at The Gallery ISC Surfaces. Lunch provided
(2). About 2:00pm PPG Paints - CEU at California Closets
(3). About 4:00pm Leather at Neenan Company- Non-CEU
We will bring you back to ISC Surfaces about 5:30
Each CEU will have a *special* surprise breakout session between the event. Food/snacks & drinks will be held at each showroom.
Save the date - register now! Space will be limited! Cost: $40.00